opens door Badge.
With the approach of a card or a magnetic card reader of RDIF, a selinoide folds.
A green LED indicates that the door is unlocked 3 seconds.
Then the selinoide unfolds and locks the door.
If you pass an invalid card, a buzzer sounds and a red LED flashes (optional).
Indeed, if one program that maps the valid code, invalid cards will have no effect.
Since then, we can eliminate the buzzer and the red LED.
In order to enter the card code in the skit, the console is launched and it shows the code of each card.
A single power supply 12 volts.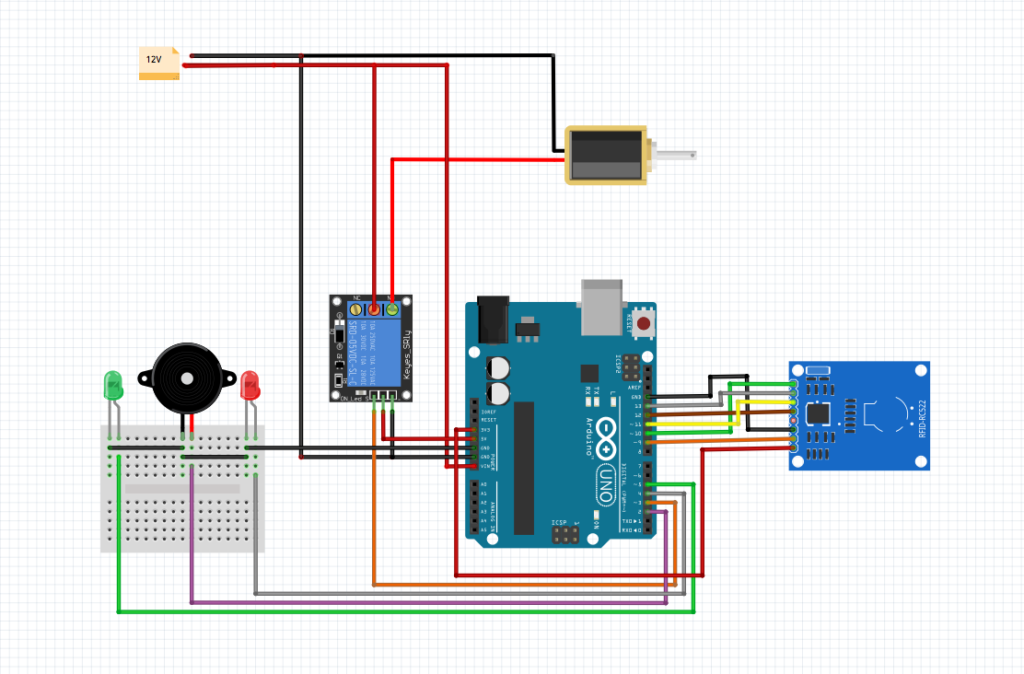 1

2

3

4

5

6

7

8

9

10

11

12

13

14

15

16

17

18

19

20

21

22

23

24

25

26

27

28

29

30

31

32

33

34

35

36

37

38

39

40

41

42

43

44

45

46

47

48

49

50

51

52

53

54

55

56

57

58

59

60

61

62

63

64

65

66

67

68

69

70

71

72

73

74

75

76

77

78

79

80

81

82

83

84

85

86

87

88

89

90

91

92

93

94

95

96

97

98

99

100

101

102

103

#define RELAY 3 //relay pin

#define BUZZER 2 //buzzer pin

MFRC522

mfrc522

(

SS_PIN

,

RST_PIN

)

;

// Branchement du lecteur de carte RC522 sur pin

int

led_libre

=

5

;

// Leds indiques si code accept? ou refus?

pinMode

(

led_libre

,

OUTPUT

)

;

pinMode

(

led_refuse

,

OUTPUT

)

;

digitalWrite

(

RELAY

,

LOW

)

;

SPI

.

begin

(

)

;

// Initie le bus SPI

mfrc522

.

PCD_Init

(

)

;

// Initie le lecteur RC522

Serial

.

println

(

"Approcher la carte du lecteur..."

)

;

// Initialise la console

if

(

!

mfrc522

.

PICC_IsNewCardPresent

(

)

)

// enregistre le rapprochement de la carte

if

(

!

mfrc522

.

PICC_ReadCardSerial

(

)

)

// lit le code de la carte

Serial

.

print

(

"Tag de la carte :"

)

;

String

conteudo

=

""

;

// affiche le code de la carte sur la console

for

(

byte

i

=

0

;

i

&

lt

;

mfrc522

.

uid

.

size

;

i

++

)

Serial

.

print

(

mfrc522

.

uid

.

uidByte

[

i

]

&

lt

;

0x10

?

" 0"

:

" "

)

;

Serial

.

print

(

mfrc522

.

uid

.

uidByte

[

i

]

,

HEX

)

;

conteudo

.

concat

(

String

(

mfrc522

.

uid

.

uidByte

[

i

]

&

lt

;

0x10

?

" 0"

:

" "

)

)

;

conteudo

.

concat

(

String

(

mfrc522

.

uid

.

uidByte

[

i

]

,

HEX

)

)

;

Serial

.

print

(

"Message : "

)

;

if

(

conteudo

.

substring

(

1

)

==

"BE 00 B3 89"

)

// copier ici le code de la carte

digitalWrite

(

led_libre

,

HIGH

)

;

digitalWrite

(

RELAY

,

HIGH

)

;

Serial

.

println

(

"Carte 1 - Acces libre !"

)

;

delay

(

3000

)

;

// 3 secondes

digitalWrite

(

led_libre

,

LOW

)

;

// on ?teind la led verte

digitalWrite

(

RELAY

,

LOW

)

;

if

(

conteudo

.

substring

(

1

)

==

"76 96 2D AC"

)

// copier ici le code de la carte

digitalWrite

(

led_libre

,

HIGH

)

;

digitalWrite

(

RELAY

,

HIGH

)

;

Serial

.

println

(

"Carte 3 - Acces libre !"

)

;

delay

(

3000

)

;

// 3 secondes

digitalWrite

(

led_libre

,

LOW

)

;

// on ?teind la led verte

digitalWrite

(

RELAY

,

LOW

)

;

if

(

conteudo

.

substring

(

1

)

==

"B3 26 B8 02"

)

// Teste le code d'une mauvaise carte

Serial

.

println

(

"Carte 2 - Acces refuse !"

)

;

// on fait clignotter la led rouge

for

(

int

i

=

1

;

i

&

lt

;

5

;

i

++

)

digitalWrite

(

led_refuse

,

HIGH

)

;

digitalWrite

(

led_refuse

,

LOW

)

;

if

(

conteudo

.

substring

(

1

)

==

"04 D2 B1 99"

)

// Teste le code d'une mauvaise carte

Serial

.

println

(

"Carte 4 - Acces refuse !"

)

;

// on fait clignotter la led rouge

for

(

int

i

=

1

;

i

&

lt

;

5

;

i

++

)

digitalWrite

(

led_refuse

,

HIGH

)

;

digitalWrite

(

led_refuse

,

LOW

)

;